Hey everyone want to party!
You might even find some great bloggers and their rocking blogs.
If you feel all hungover and tired
from partying too much this weekend,
an escape on a mini getaway may be in-store for you.
You could win an Escape brought straight to your front door!
But remember to have got to be in it to win it.
My lovely co-hostees and I have decided to do another July giveaway for all our awesome readers! Need a mini getaway but can't find the time? How about an Escape delivered right at your doorstep? Win an Escape Monthly box worth $50! Enter here! The giveaway ends on the the 29th:
Enter Here:
a Rafflecopter giveaway
Ready to party? Before we get our groove on, here's just a few rules to follow:
Link up your favorite posts. It doesn't matter which one, just make sure it's family friendly!

Follow your host (that's me! The Wondering Brain)

Leave a comment if you'd like them to follow you too

Visit at least 5 other bloggers

Show them your blogger love too if you'd like them to follow
Remember, it's not a party unless you mingle, so mingle around and make some friends!
Take our beautiful badge and proudly display it on your side bar to encourage others to party with us!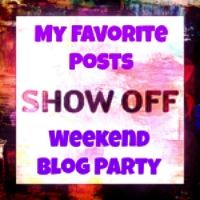 Interested in co-hosting The SHOW OFF Weekend Blog Party next
month? $4.00 to reserve your spot for a month and a 50% discount on ad space! We won't disappoint. I promise! Please email me for more information:
th

ewonderingbrain@gmail.com
Let's swap buttons! Choose the 100 x 100 ad and enter the promo code: swap. It will give you priority link to My Favorite Posts SHOW OFF Weekend Blog Party every week as a swapper!! Click here to submit your button :)
Jessica
Wife , Mom, Career Person, and Doctoral Student
The Wondering Brain